Disclaimer: I received complimentary tickets for the Old Town Trolley Tour in order to review the attraction. However, all opinions are my own.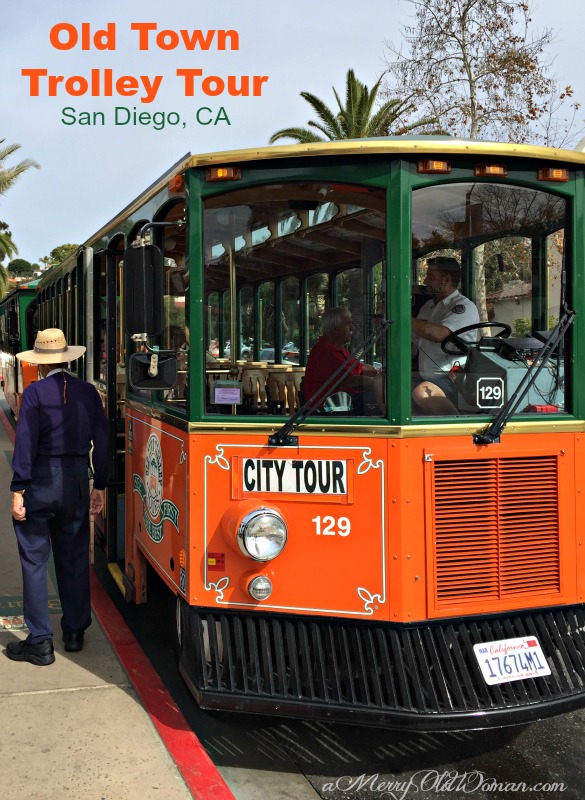 Ever been to San Diego?  We were there for a short, one day conference. We arrived the day before and only had half of the afternoon to see the most we could of San Diego.  So we hopped aboard a trolley.  Old Town Trolley Tours is perfect for visitors who want to see the best of San Diego as quickly as possible. The route is a 2 hour circuitous drive through the City. However, because it is designed as a hop on / hop off tour, guests are encouraged to get off, enjoy the sites, and catch another trolley later to continue their tour.
Stopping at the ticket booth, we were greeted by David. He explained all of the many different tours that we could take – The City tour, the La Jolla tour, the Seal Tour, the Ghost Tour – wait did you say Ghost Tour, David? Picking the City tour, we made our way to the waiting trolley, where the Trolley greeter was "holding the bus" for us. Sorry I didn't get this nice fellow's name, but we were in a rush. No sooner than we were seated, we were whisked off on our delightful Old Town Trolley tour around the city.  The day was cloudy, overcast, and cool, but it was a perfect day on board the trolley.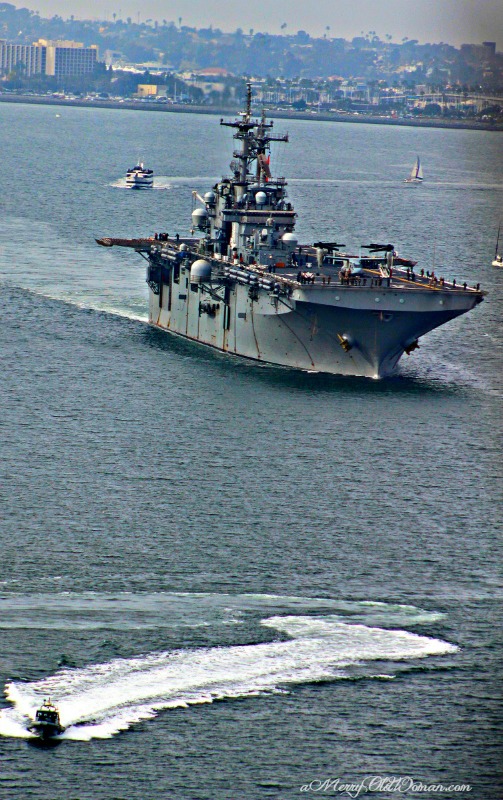 San Diego is the home of San Diego Naval Base. The sight of ships in the harbor is a common view that never grows old.  This ship is huge as you can tell by comparison to the other boats in the picture.
The Old Town Trolley Tour took us past all of the major attractions in downtown San Diego. One of those sites is the USS Midway aircraft carrier. The Midway was launched on March 20, 1945 and was the largest and most modern warship in the world at that time. After a long and historic career, she was decommissioned on April 11, 1992 with 47 years of active service. In 2004, she was docked in her final berth in San Diego harbor and officially opened as San Diego Aircraft Carrier Museum.  Her deck holds military aircraft of all types and all eras.  Mr. B was particularly interested in this plane, the A4 SkyHawk, because it is the one he flew as a Naval pilot many years ago.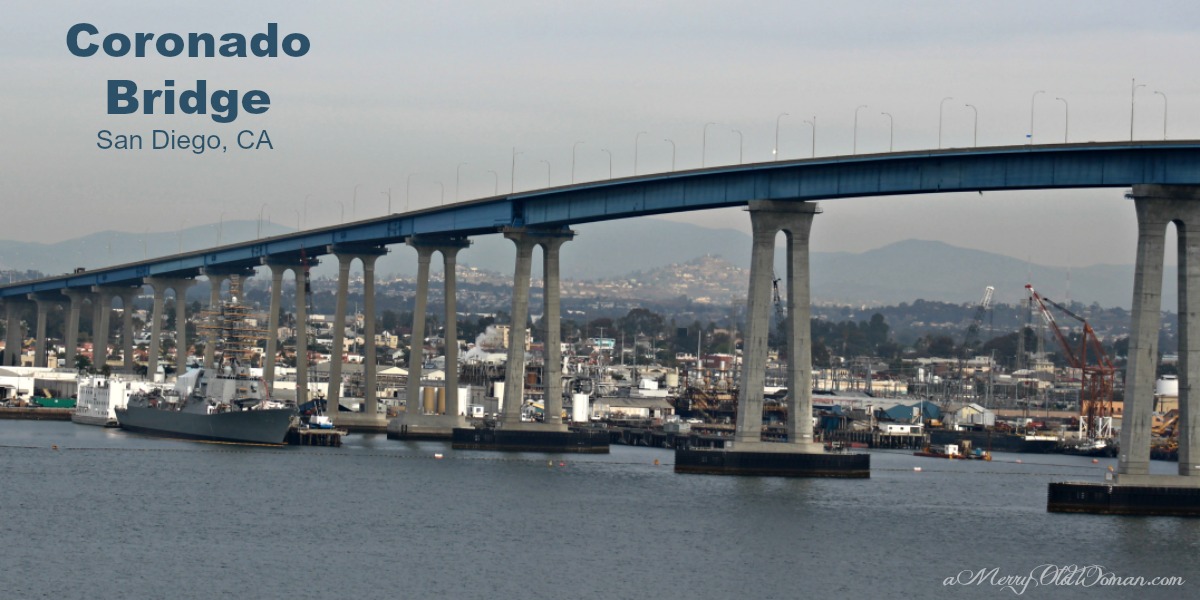 The Coronado Bridge stands as a majestic gateway to the harbor, filled with boats of all sizes and all types. The bridge anchors Coronado Island to the mainland. A trip over the bridge takes you to another world. The city of Coronado was incorporated in 1890, yet even now it retains its quaint small town village atmosphere.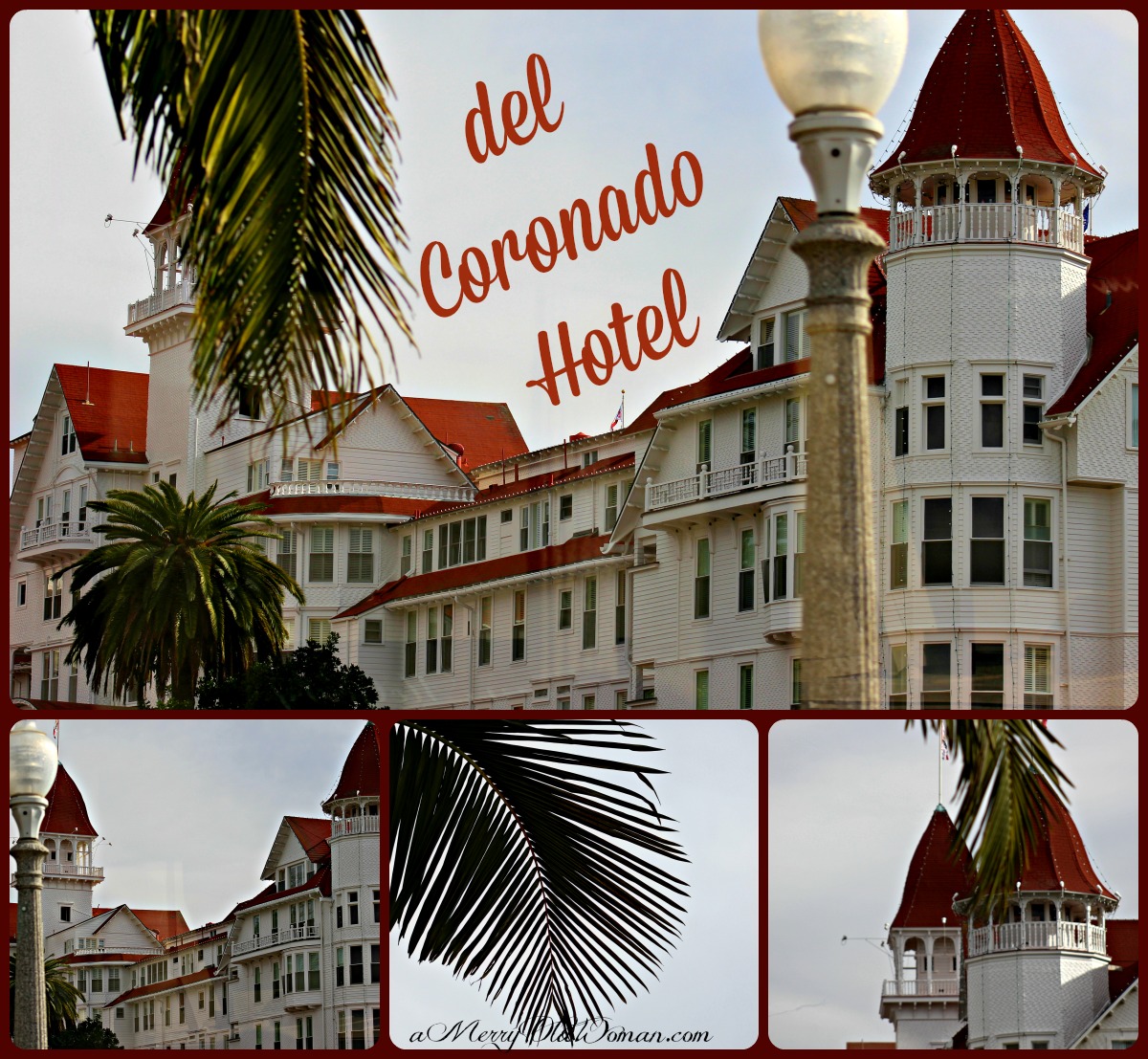 Once on Coronado Island, we of course had to see Hotel del Coronado. The Victorian style hotel was built in 1888 and was the largest resort in the world.  At the time, the architectural style of  Southern California was heavily influenced by the numerous Spanish missions that dot the coastline. So a Victorian inspired castle must have seemed extremely exotic and enticing then – just as it does now.  The second largest wooden structure in America, it was designated an historic landmark in 1977 and a California historic landmark in 1970.  The del is still receiving and entertaining guests.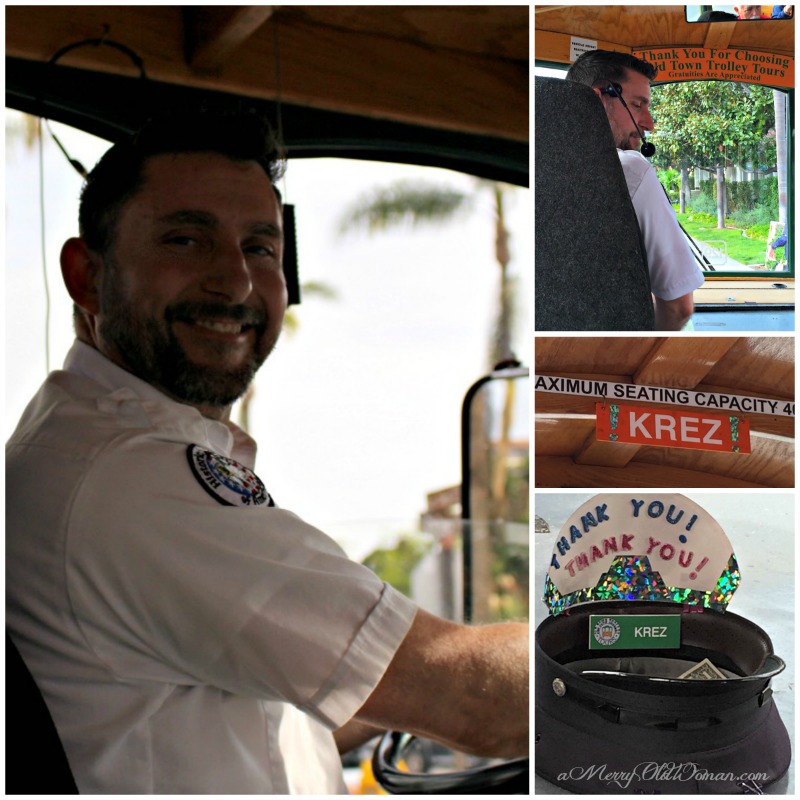 Our happy trolley driver was Krez. He was full of facts and trivia and interesting little tidbits, most of which were accompanied by songs played over the intercom system.  Unfortunately, the only fact that I remember is that the orange trees on Coronado Island were eaten by the rabbits. It was impressive how he was able to maneuver that large trolley so smoothly through heavy traffic and never miss a beat of his commentary.  All too soon, Krez was steering his trolley back to our starting point in Old Town. With a friendly, happy wave, Krez bid us farewell and thanked us for taking the tour. (Oh — and one more thing — don't forget to put a little tip in Krez's hat.)
If you would like to learn more about Old Town Trolley Tours of San Diego, click here.  If you take a ride on the trolley, tell them you saw them on A Merry Old Woman
To see even more photos of San Diego and the Old Town Trolley Tours, visit Sunshine On My Shoulder Old Town Trolley Tours . I would love to hear about your trip on the Old Town Trolley Tour in San Diego or any of the other five cities that they serve. So leave me your story in the comments.
All photos used in this post were taken by Merry, from my seat on board the trolley.  Thank you for visiting A Merry Old Woman.  Please see my Facebook, Twitter, Instagram, or Pinterest pages.
Disclaimer: Media tickets for the Old Town Trolley Tours were provided for review of this attraction. However, all opinions are my own. Both David and Krez gave permission for their photos to be used.