Cherry Fluff Salad is one of our favorite side dishes. Sweet, cool, and creamy, the flavor compliments ham, chicken, turkey, hamburgers on the grill, and almost everything else.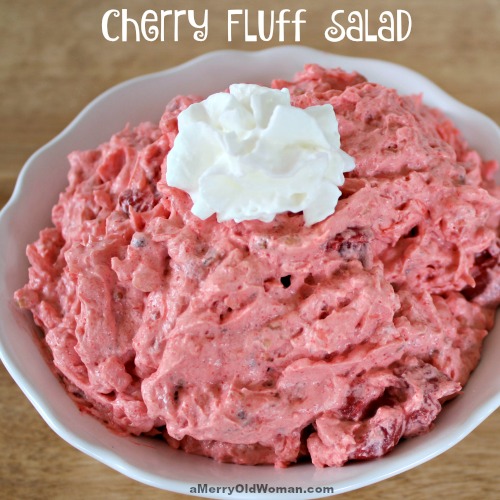 Cherry Fluff Salad is a cool creamy side dish, much like a fruit salad.  I first discovered this salad at a large family potluck dinner in East Texas over 40 years ago. It went by the strange name of "Pink Stuff" because no one could quite come up with a name, and it just came naturally to say "I'd like some more of that Pink Stuff". It was even titled that in the church cookbook. So that is what we called it.  After that, I made it often for church potlucks, BBQ's with friends, and family reunions. For us, it became as traditional at holiday dinners as pumpkin pie and Easter eggs.
Shortly after we moved to Arizona, we attended a potluck at our new church. Our girls were both still very young at the time. As we were going through the line, we saw a big bowl of something that resembled my "Pink Stuff". The girls were delighted, even knowing that I had not brought it. When we sat down to eat, and thankfully after the prayer was said, one of the girls took a big bite of her favorite thing – yes the "Pink Stuff".  Unfortunately, it was not the "Pink Stuff" of her dreams – it was a different recipe that was very heavy with cottage cheese and not at all sweet.  Much to my chagrin, before I could stop her, she began a very loud lament about the "awful tasting" stuff. And to be honest, I didn't care for it either. To make matters worse, the woman who brought it – who also just happened to be the pastor's wife – was sitting right at our table.  Well, of course, with apologies made, we went on to a lovely day. But that taught us all a great lesson about potlucks – only take a little spoonful until you know what it is you're getting.
Cherry Fluff Salad
Cherry Fluff Salad Recipe
Ingredients
1 20 oz can crushed pineapple, drained well
1 can cherry pie filling
1 cup coconut
1 cup pecans or walnuts, chopped
1 sm pkg Cherry Jello, dry
1 can condensed milk
1 8 oz carton Cool Whip
Instructions
Mix all of the above ingredients together. Mix well.
Refrigerate several hours until chilled and firm.
Now here is the rest of the story: While I was making my apologies to the pastor's wife, I had to explain that I made a very similar dish. She asked for the recipe, which I gave her from memory. I don't know if she ever made it, but I do know that we never saw her old version of Pink Stuff at a potluck again.
I often serve Cherry Fluff Salad with smoked ham or roasted chicken.
Thanks for stopping by. If you liked this recipe for Cherry Fluff Salad, please add a comment. For more great ideas, follow me on Facebook, Twitter, Instagram, or Pinterest.