Easy Mixed Fruit Salad is a perfect side dish on a hot summer night.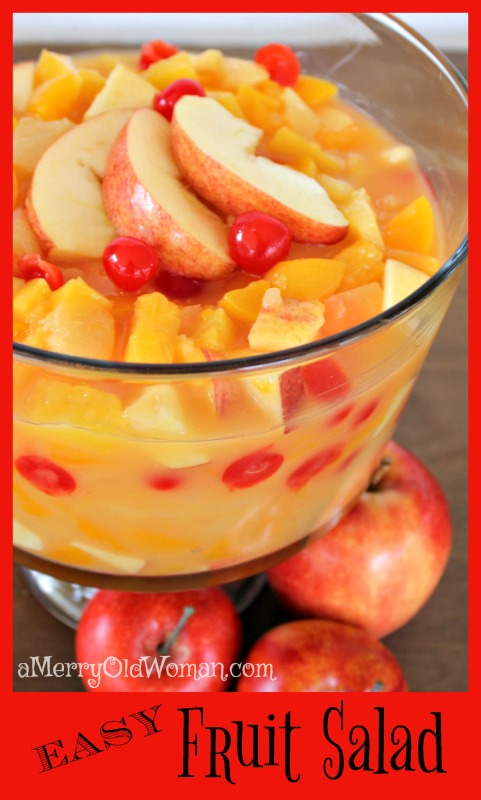 I've been making this fruit salad for as long as I can remember. So long, in fact, that I have no idea where it came from. But it has been a regular on our family table for years. Not too sweet, it goes well with almost every thing from chicken to ham to burgers. Served chilled, it is a light, fruity dish.
Easy Mixed Fruit Salad is pretty enough and delicious enough to serve to your dinner guests. And since most of the ingredients are kept in the cupboard all of the time, it is a dish that can be stirred up at a minutes notice and served to unexpected company. Just add whatever fresh fruit is on hand, and if there is no fresh fruit it is still great with out it.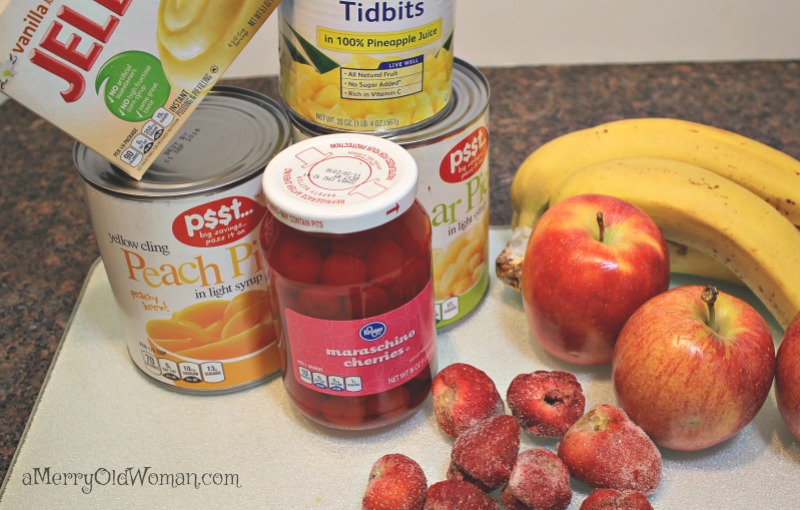 The sauce is made from instant vanilla pudding mixed with the combined fruit juices. Add some of the cherry juice to give it a colorful tinge. And if you or someone else is watching their calories or their blood sugar, Easy Mixed Fruit Salad is just as delicious using sugar free instant vanilla pudding.
EASY MIXED FRUIT SALAD WITH VANILLA PUDDING
Easy Mixed Fruit Salad With Vanilla Pudding
Easy Mixed Fruit Salad is a light and cool accompaniment to chicken, ham, or burgers on the grill on a hot summer night. Pretty enough for company, but easy enough for family dinners too.
Ingredients
1 (16 oz) can pear halves, in own juice, drained and chopped
1 (20 oz) can pineapple chunks or tidbits, drained
1 (16 oz) can peaches, in own juice, drained
½ cup maraschino cherries, drained, cut in half
2 apples, cored and diced (and peeled, if desired)
2 bananas, sliced
1 (10 oz) package frozen strawberries
1 large package instant vanilla pudding mix
Instructions
Drain the peaches, pineapple, and pears into a large bowl, reserving the juice.
Slice the cherries in half.
Place the fruit into another large bowl.
Mix the pudding with about ¾ - 1 cup of juice depending on how thick or thin you like the sauce. (Remember that the remaining juice on the fruit will also loosen the sauce.)
Mix well.
Pour over the fruit and stir until well mixed.
Place in the refrigerator and chill for several hours prior to serving.
Shortly before serving, chop the apple and slice the banana and immediately add to the sauce. Add the sliced frozen strawberries.
Stir to combine.
Place back in the refrigerator until serving time.
Notes
Add the fresh fruit shortly before serving so that it doesn't turn brown. The strawberries can be too mushy after they thaw so add them right at the end.
This recipe makes a lot. If you don't think that it will all be eaten, then just add part of the fresh fruit to part of the salad, and keep the remaining fruit for the remainder of the salad. If unavailable, the fresh fruit can be omitted and another can of canned fruit can be added instead.
A can of fruit cocktail can be used in place of other canned fruit, if desired.

Sugar free instant pudding can also be used, reducing the calories.
Love this recipe? Please leave me a comment below.