Homemade Spaghetti and Meatballs is not as hard to make as you think.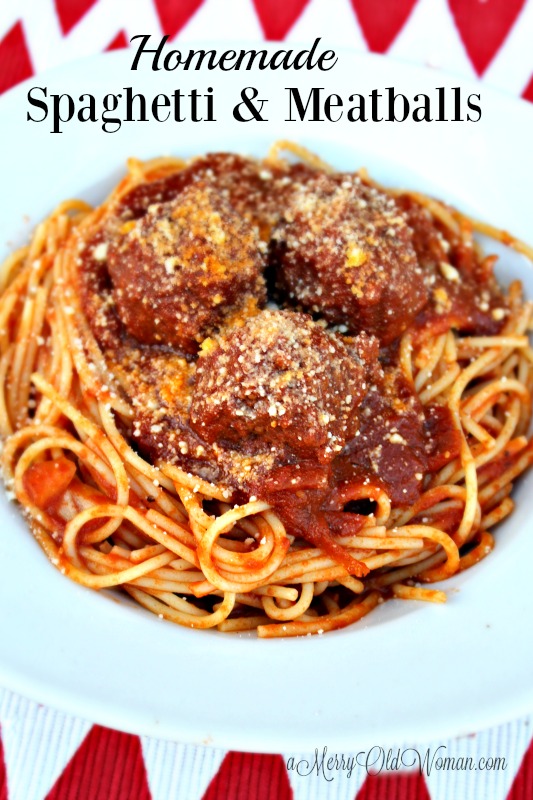 I've been making Homemade Spaghetti and Meatballs for as long as I can remember.  My mother would make this dish quite often, and I learned to make it from her. It was one of the "must have" recipes that I took with me when I married.
As a young wife and mother, this was one of my "go to" meals on a busy day. When our daughters were very little, one was so small that I needed to cut up her meatball for her. The other daughter would not touch a meatball at all – even though she loved the sauce and she loved hamburgers. Kids are funny that way.
So one day I, instead of making meatballs, I browned the hamburger in a skillet and added it to make a meat sauce instead. Both girls instantly fell in love with the "new dinner". The older daughter didn't mind the meat already added to the sauce, the younger one did not need the meatball cut up for her, and — as an added bonus — I was able to stretch the meat much further. So it helped my budget.
Of course, it is really quite convenient to buy spaghetti sauce in a jar. Just pop the top and heat it up. Voila'!! Instant dinner. I admit it is a timesaver. But I have never found one that we really like. I always end up adding extra spices to it to flavor it up a bit.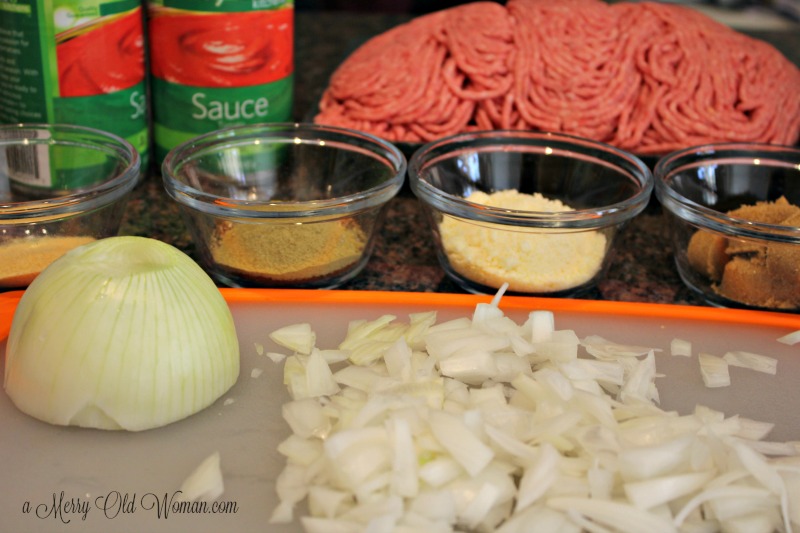 My sauce is full of flavor. Don't let the ingredient list scare you off.  You probably have everything in the cupboard already. Whoa! You see the chili powder and you are starting to think "SPICY" and "HOT!" But it isn't. The chili powder gives it just enough spice to give it a full bodied flavor. And remember, my girls ate this as babies.
Homemade Spaghetti and Meatballs
Although it can be slow simmered on a stove top, I make my spaghetti sauce in a slow cooker. I add everything to the cooker in the morning and let it simmer all day so it is ready when I get home from work.  Then I quickly cook the spaghetti, and add some garlic bread and a green salad to complete the meal.

To make the meatballs, I just form the hamburger into small balls. I don't add anything to the meat. Sometimes, I brown the meat in a skillet, like for tacos or sloppy joes, drain off the grease, and then add the meat to the cooker to make a nice meat sauce. The benefit is that I can cook off all of the grease and I can stretch my budget by using less meat. Ground turkey is excellent cooked this way. The turkey will take on the flavor of the sauce.
As an added benefit, the sauce and meatballs freeze well. So make a double batch and freeze half in a freezer container for an easy meal on a busy night.

Homemade Spaghetti and Meatballs
Prep time:
Cook time:
Total time:
Homemade Spaghetti and Meatballs is full of spice and flavor. Simple to make in a slow cooker or simmered on the stove top. Make a double batch and freeze half for another meal.
Ingredients
1 lb ground beef
1 6 oz can of tomato paste
1 6 oz can of water
1 8 oz can of tomato sauce
1 cup of canned diced tomatoes (or 1 8 oz can of tomato sauce)
1 medium onion, chopped
1 clove garlic (or 1 tsp garlic powder)
2 tsp salt
¼ tsp pepper
1 tsp oregano
2 TBSP brown sugar
1 TBSP chili powder
1 TBSP Worcestershire sauce
1 TBSP lemon juice
2 TBSP grated Parmesan cheese
1 sm can mushrooms, drained (opt)
8 oz dry spaghetti
Instructions
Mix all ingredients, except hamburger meat and spaghetti, in a large slow cooker.
Stir to mix well.
Make hamburger into small meatballs, about 8 from 1 pound of meat.
Add meatballs to the sauce.
Cover and cook on low for 6 - 8 hours or on high for 4 hours or until the meatballs are cooked through.
Skim off any grease from the top before serving.
Cook the spaghetti in a pot of boiling water as directed on the package.
When tender to your liking, drain the water off. Add the spaghetti to the sauce.
Serve hot.
Add additional Parmesan Cheese to the top is desired.
Notes
For meat sauce, brown the ground beef in a skillet. Drain off the grease, and add to the sauce. Simmer for several hours to blend the spices.

Ground turkey works well.

This freezes very well. Make a double batch and freezer in a freezer container for an easy meal.
Be sure and leave me a note below in the comment section if you try my recipe.