Disclaimer: Complementary tickets were provided in exchange for this review. However, all opinions are my own.
Medieval Times Dinner and Tournament
Like a trip in a time machine, a visit to Medieval Times Dinner & Tournament will instantly sweep you off of your feet and back to the age of knights on horseback jousting with lance and shield to defend king, country, and honor.  We visited Medieval Times in Buena Vista California with grandchildren in tow.  Having been to the local Renaissance Festival several times, they were familiar with the era and the costumes. But from the moment they stepped through the door, they were captivated.
While waiting for the dinner and tournament to begin, we browsed through the shops full of medieval regalia – King's royal red velvet crowns and ladies silk hats were our favorites.
Served by the happy, loyal subjects of the king, our dinner began with a mug of tomato bisque soup, followed by roasted baby dragon (half of a chicken), corn, and a potato wedge, served on a metal plate.
The show began with the pageantry of the king, followed by his nobles, his knights, and his loyal subjects. Horses decked out in colors. Flags waving. Trumpets blaring. As the parade made its way across the arena, we were mesmerized by the grandeur and celebration.  Next came a performance by the beautiful white Spanish horses. The announcer proclaimed them to be the "King of Horses! and the Horse of Kings!!" And it is easy to see why. Bred for their courage and performance on the battlefield, these horses are agile, graceful, and magnificent in form. But their gleaming white coats make them beautiful beyond words.
The main event, however, was the tournament. Six knights – the Green knight, the Red & Yellow knight, the Blue Knight, the Yellow knight, the Black & White knight, and the Red  knight — gallantly vied for the privilege of receiving the Princess's favor.  And finally came the joust–a determined race, pitting man against man, shields up, lances down, horse hooves pounding the arena — lances splintering upon impact.   Waving our yellow flags, we cheer our Yellow Knight to victory.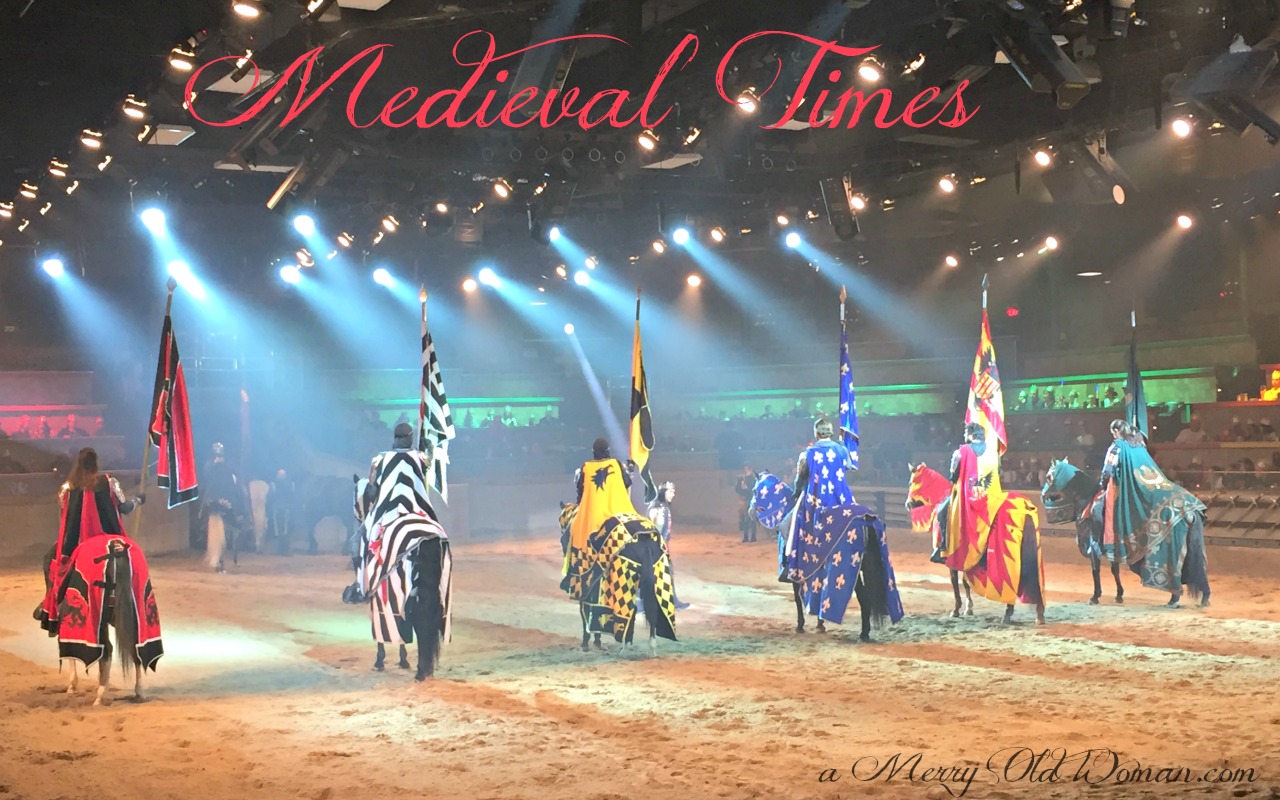 Medieval Times Dinner and Tournament is a fun-filled, spectacular evening not to be missed. Our grandkids loved it. We loved it. The entire audience loved it. And you will love it too.  If you would like to find out more about Medieval Times and find the closest one to you, click here.
Want to see more? Check out my other story about Medieval Times here.
Please follow me on Facebook, Twitter, or Instagram to find more great places to visit.
Disclaimer: Complementary tickets were provided in exchange for this review. However, all opinions are my own.