Never been on a cruise? Here are some cruise tips and advice for first time cruisers.
Having never been on a cruise, it was definitely at the top of my bucket list of things to do. So when an unexpected opportunity arose to accompany my daughter on a conference trip, I was all in from the beginning. Leaving the children and husbands home, we set out for an 8 day adventure that included a three day cruise on the Disney Wonder to Castaway Cay, Disney's private island in the Bahamas. Since this was her first cruise as well, we had thousands of questions about what to do and what to expect. So here are my top 10 cruise tips and advice for first time cruisers. Since we were on a Disney cruise, these tips are specific to Disney Cruise Line.
Advice for First Time Cruisers
Get the Disney Cruise Line App
The Disney Cruise Line App is a great way to find out all the news about the cruise. It has a count down clock to get you excited. There is a charge to use Wi-Fi on the boat, but you can use the app board for free.  So you can still keep in touch with family and friends. Just like the "Navigator", the on ship flyer listing all of the daily activities, the app is updated with dining options, activities, character greetings, maps, and more.
All-You-Can-Drink Beverages
Out by the pool, there is a beverage station with almost every beverage you can think of – coffee, tea, hot cocoa, lemonade, and soda – sodas of all flavors. Just take a cup and fill it up. Cups are provided. Almost every site I read suggested that I take my own big beverage cup to fill with soda because the paper cups provided are rather small.  So I did take my own cup. But for me, that turned out to be unnecessary baggage.  I didn't like carrying a mug around all the time. The provided cups were the size of a small drink at a fast food restaurant, but when finished, I could toss the paper cup. So, if you want a huge drink to put by your deck chair so you never have to get up again, then OK. Take a huge cup. Otherwise, leave it at home.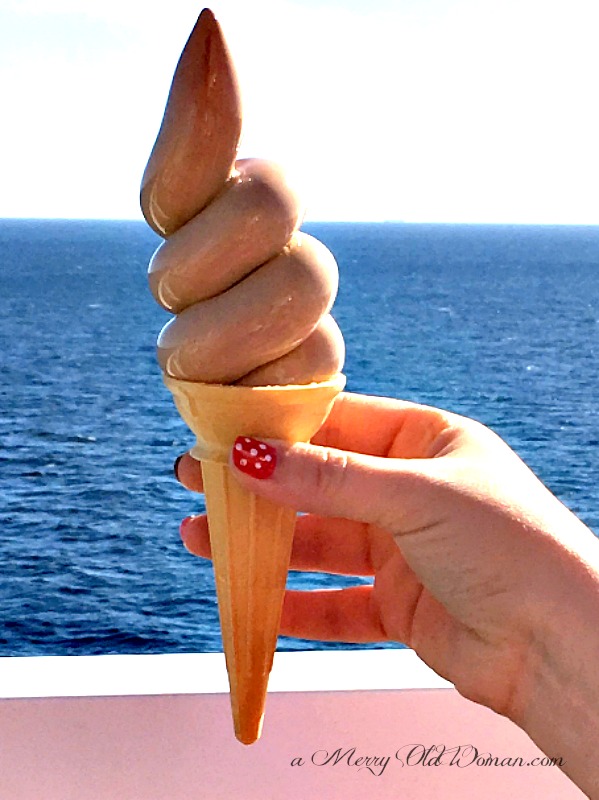 All-You-Can-Eat Food
Bring your stretchy pants because, with the exception of the specialty restaurants, the food is All-You-Can-Eat. Want a snack by the pool? Grab an ice cream! or two! Whether you are in the dining room, at the buffet, in the lounge, or poolside, the food is available and waiting for you. So be adventurous. Try something new. Try something you have never liked. You may be really surprised to find that cauliflower is really very delicious. Want two desserts? Go ahead. Indulge. Ask the servers for both. They will be happy to oblige.  Oh, but there is one other exception to the free food everywhere rule. Just outside of the main theater, there is a small snack bar with canned sodas, candy, and popcorn, etc. For some strange and unknown reason– at least unknown to us – this small snack bar charges for all of those tempting snacks.  So before you head to the theater, stop out by the pool and grab a drink (maybe that's where you need that bigger mug!) and some snacks to take with you.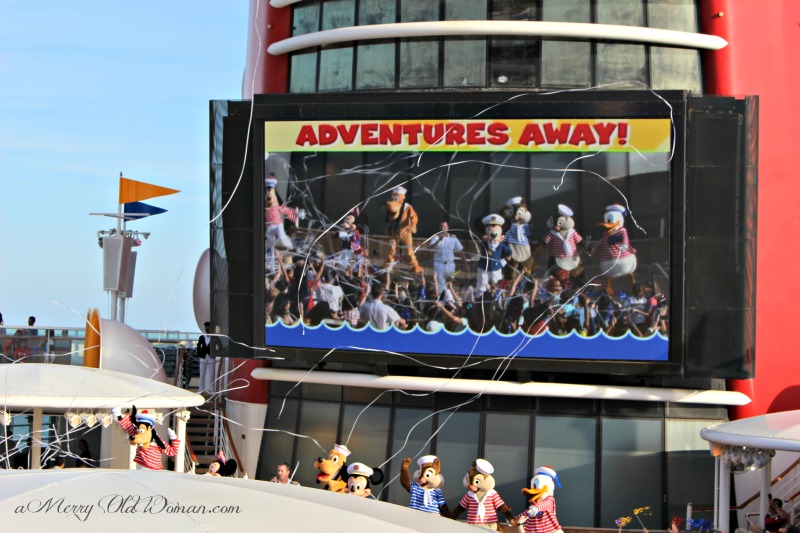 Deck Parties!
Don't miss the deck parties. It seems there is a deck party every evening to keep you entertained. The first afternoon there was a "Welcome Aboard" party. On the Wonder, there is a very large movie screen that shows everything happening on stage. And on stage there was a very high energy dance party led by Captain Mickey and his friends. A night at sea gave us "Pirates Night" where some people dressed up in their best pirate garb. Some fancy. Some not. But fun for everyone. My favorite was the fireworks at sea. Although not the big fireworks show that Disney puts on at the parks, it was still really awesome to see the fireworks exploding out over the ocean. Perhaps the dark sky just made them stand out more.
 
Character Sightings!
Keep your camera handy. There are plenty of scheduled character photo times, but Captain Mickey and his friends show up at unexpected times and in unexpected places.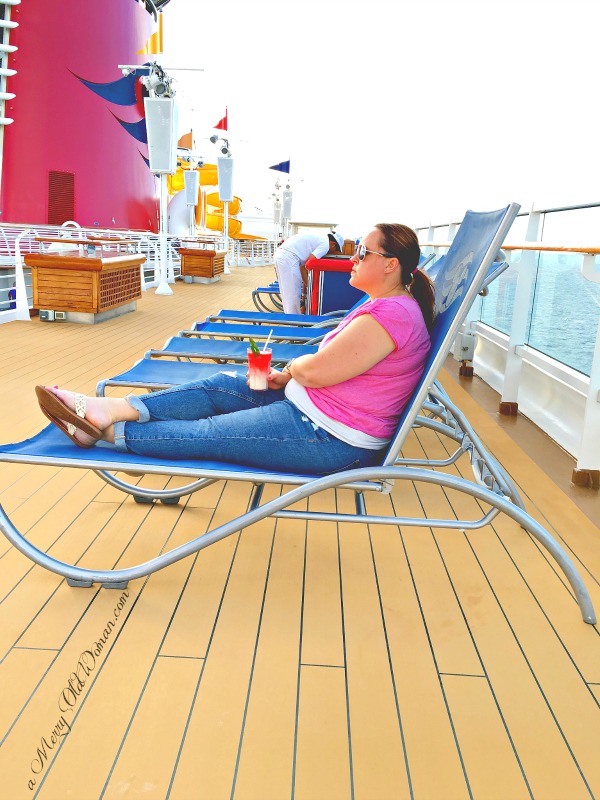 Dining Room Rotation
There are three beautiful dining rooms on the Disney Wonder – Tiana's Place; Animator's Palate; and Tritons. During our three night cruise, dinner was rotated to a different restaurant each night. Therefore, we were able to enjoy each of the three different venues. At check-in we were assigned a table number, so we were always seated at that table, no matter which restaurant we were in. Since the servers are also assigned to the table, they rotate and serve you in the different dining rooms. Even on our short cruise, they already knew our names, our likes, and our preference by the second night.  Of particular importance to us, our servers remembered our food allergies and took special care to see that our needs were met and that our dining experience was just as enjoyable and memorable as everyone else's.
Choose Dinner Time Wisely
Dinner times are 5:45 PM and 8:00 PM. We were assigned the 8:00 PM seating. But getting seated at 8 o'clock and eating at 8 o'clock are two different things. For us, since we were used to eating dinner 2 hours earlier, we found ourselves needing a snack from the buffet to hold us until dinner time. Okay, no real problem there. The real problem was that after a full day of active fun we were really tired by 8:00 – as were most of the children seated around us. And dinner lasted a long time, it was nearly 10:00 PM by the time we were done and the deck parties were already started. So if you are a night owl, the late dinner will be perfect for you. Otherwise, opt for the early dinner and then chose for yourself how late you want to stay out.
Room Service
Try room service! It's fun and you can order up a special treat, literally any time, to be brought to your room.  Although the menu is limited, there is enough to choose from to satisfy your late night cravings. Remember to tip the delivery person separately.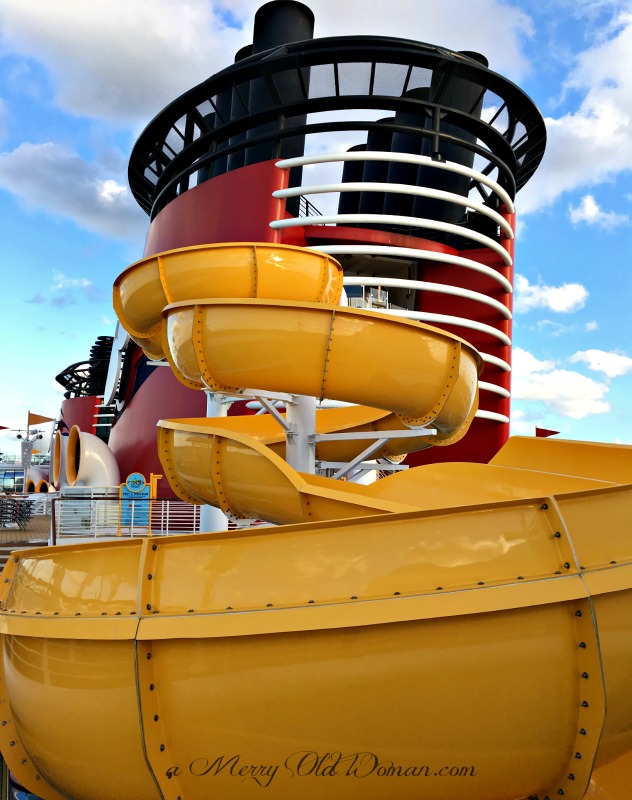 Medical Insurance
We don't want to think about getting sick on board the ship, but it can happen. It happened to me. I woke up in the middle of the night unable to breathe. It soon became obvious that a trip to the medical clinic was the only prudent course of action. After a full exam including blood work, an EKG, and a chest x-ray, I was presented with a diagnosis and an $800 bill!  Luckily, my medical insurance picked up most of the tab because it was an emergency. But before you leave home, double check your medical insurance for coverage. You might need to pick up some travel medical insurance just in case.
Disembarkation Day
Don't party too late! The ship pulls into port at 5:30 a.m. You will need to get up early. Breakfast is served by rotation in the various restaurants or at the buffet. It is a limited menu of standard breakfast items, intended to feed you and get you on your way as quickly as possible. Then off the boat by 8:30 a.m.  If you had the steward collect your bags the night before, they will be waiting on the racks just outside of Customs. Grab the bags. Then over to Customs. Have your passport out and ready. Declare your purchases. Then on your way. You will need to arrange for transportation between Port Canaveral and the airport. The ship arrives early enough for you to get an afternoon flight home.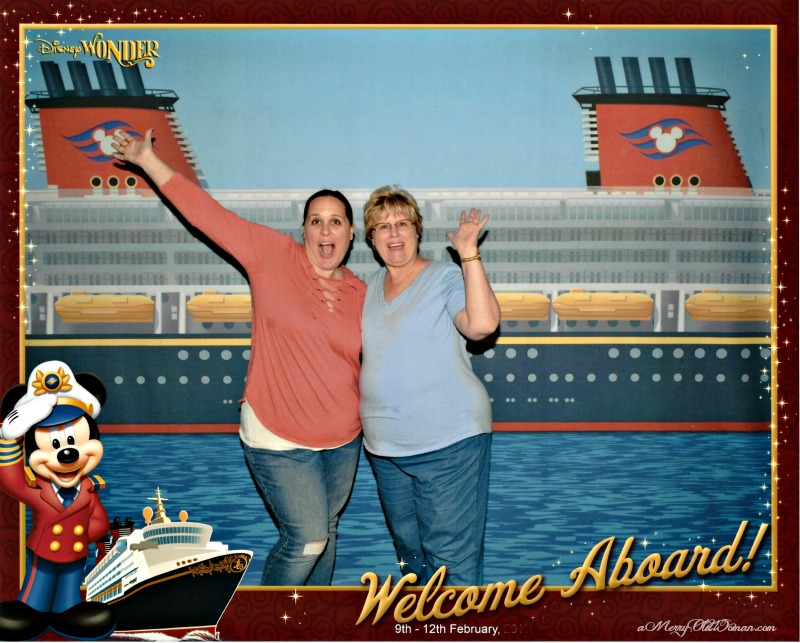 Buy the Souvenir Picture
As you board the ship on embarkation day, photographers will be set up to snap a photo of your group. Everyone is happy and excited, and the photo is a fun way to start the adventure. If this is your first cruise, buy the picture! It is a nice souvenir. And when you arrive back home, you will be glad to see it. It will bring back many happy memories every time you look at it.
Bon Voyage! Have an awesome trip. Take lots of photos!