How to register for Medicare was a question that nagged at me for months as my 65th birthday approached.
Just like turning 13 and becoming a teenager, or turning 21 and becoming of legal age, turning 65 is a rite of passage that we mark simply by celebrating years on the calendar.  In the United States, 65 was the traditional full retirement age for many years. Although that is no longer the case, age 65 is still the mandated age to register for Medicare. So as my birthday approached, I began to think about how to register for Medicare.
Most people in the United States, age 65 and older, are eligible for free Medicare Hospital Insurance  – what is known as Part A. If you qualify for Medicare Hospital Insurance (Part A), you should sign up 3 months prior to your 65th birthday, even if you do not want to begin receiving retirement benefits.
You can register for Medicare:
on line at www.SocialSecurity.gov.
by calling the Social Security Office at 1-8000-772-1213, Monday – Friday from 7 a.m. to 7 p.m. (TTY users 1-800-0778)
Or in-person at a Social Security Office.
Since I had some questions about the program as it applied to me, I decided to visit the local SSA office and speak to an agent. Here is what happened the day I went to register for Medicare.
How to Register for Medicare
It is just a way of life now that every public and many private buildings and facilities now have security guards at the doorways. And so it was at the Social Security Administration building. I was met at the door by a security guard. The guard was polite, pleasant, and professional.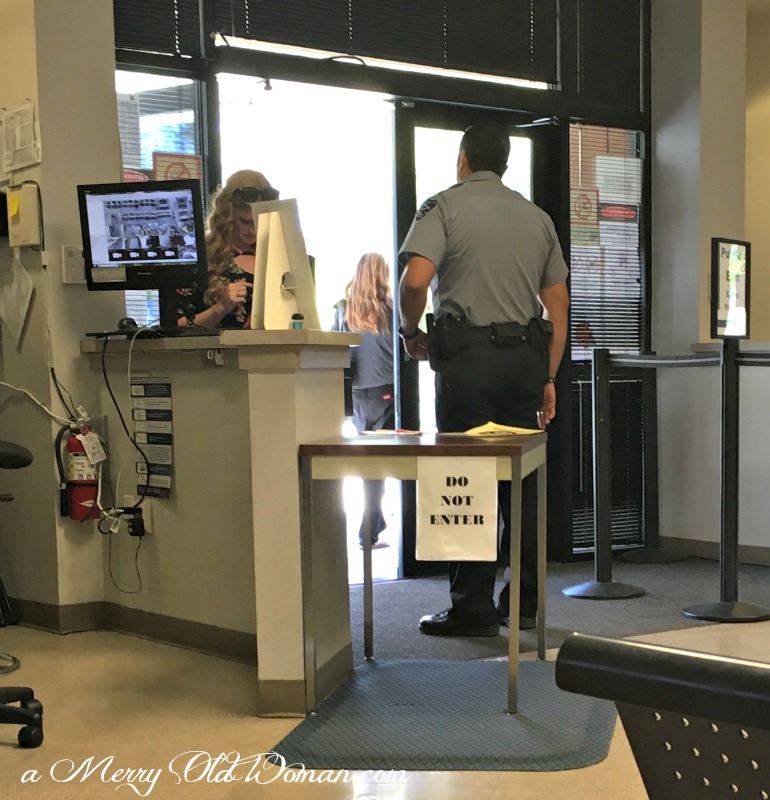 He searched by bag. and then advised me to check in at one of the two "Check In" kiosks.  Leery of the machine at first, it was actually a very easy process. It requested my name, and other identifying information, including whether I had an appointment – which I did not- and the nature of my visit.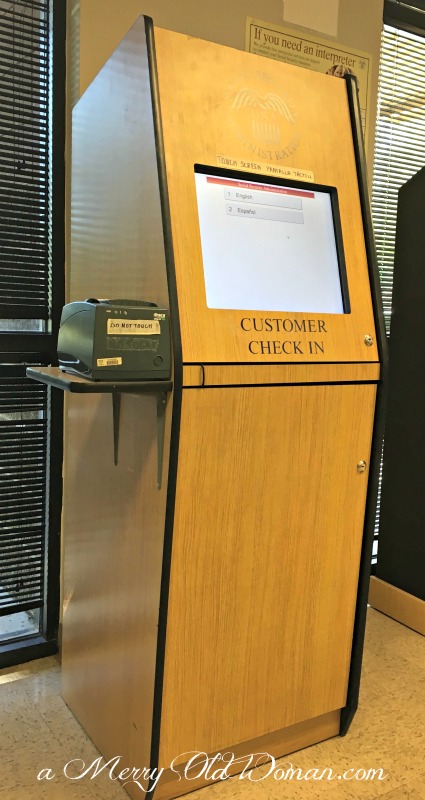 Then it spit out a time and date stamped ticket.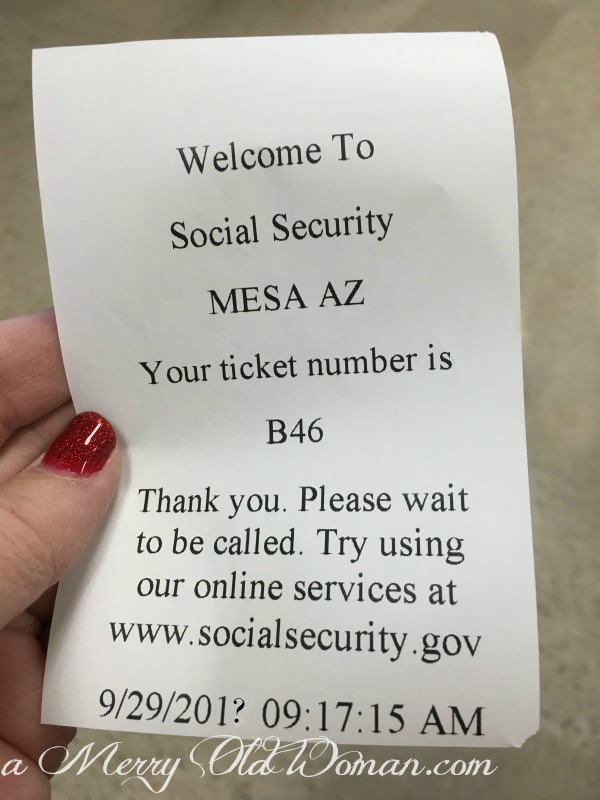 The waiting room was a large cavernous room, with rows and rows of chairs. There was a TV on the wall with a news program running. On this day, it was not overly crowded and it was fairly quiet. So I found a seat and got comfortable for my wait. The room was flanked on 2 sides by call windows. I had just settled in and had only been waiting for 15 minutes when I heard my name announced.
"Woo Hoo!" I thought, "that did not take long.  I'll be out of here in no time at all."
When I sat down at the call window, the agent took my information again. But much to my surprise, this was still part of the check in and screening process. After 10 minutes with her, I was advised to "take a seat" and that a Medicare "processing agent" would be with me shortly. So I went back to my seat, got out my book, and waited – and waited – and waited. The short wait stretched into 45 minutes before I finally heard my name called.
After following the agent, Alan, back to his station, he seated me and then took his place behind a glass window. It reminded me of the bank, or the visitation room in jail. It felt extremely impersonal and discouraged any type of non-business related interaction.
However, Alan turned out to be extremely efficient, knowledgeable, and helpful. He prepared all of my paperwork, answered all of my questions, and explained everything.
After 45 minutes, I was signed up for Medicare (Part A) and my entire Social Security account had been reviewed and my future benefits and options explained. In total, I spent 2 hours at the Social Security office that morning.
You can learn more about signing up for Medicare   or you can Register for Medicare online or with a phone call.
Well that is how to register for Medicare. It really was not hard and now I am a card carrying member of Medicare. Now bring on retirement! Oh yeah, I can hardly wait.